Summary
Green architecture is making strides in creating sustainable construction and infrastructure. A global survey found that 47% of respondents prioritize sustainability, with a focus on the design process. Architects are implementing strategies such as reducing energy use, using eco-friendly materials, and emphasizing water conservation.
Architects also incorporate renewable energy resources, such as solar and wind power, into their designs. Sustainable building materials, such as bamboo, cork, and bricks made with renewable energy, are being used to minimize carbon output. Additionally, native landscaping, stormwater management, and the use of efficient appliances contribute to sustainable and environmentally friendly buildings.
Green architecture not only benefits the environment, but also public health and the economy. While there is a misconception that implementing sustainable practices is costly, the return on investment and energy savings offset the initial costs. By embracing green architecture, we can work towards achieving sustainability goals and mitigating the impacts of climate change.
Green Architecture: Designing for a Sustainable Future
Introduction
As the world faces escalating environmental concerns, architecture is taking on a transformative role in shaping a more sustainable future. Green architecture, also known as sustainable or eco-friendly architecture, embraces innovative design strategies and construction practices that minimize environmental impact while creating functional and aesthetically pleasing spaces.
This article explores the principles, benefits, and challenges of green architecture, shedding light on its pivotal role in addressing the global sustainability crisis.
Raefer Wallis: Green architecture that regenerates
Architect Raefer Wallis is a pioneer in green building in China, and his passion is figuring out scalable solutions to environmental ...
Understanding Green Architecture
Defining Green Architecture
Green architecture encompasses the integration of eco-friendly practices into the design, construction, and operation of buildings. It prioritizes resource efficiency, minimizes waste, and reduces negative environmental impacts throughout a building's lifecycle.
Core Principles
Green architecture is guided by principles such as energy efficiency, sustainable materials, water conservation, and consideration for the natural environment. It aims to harmonize human needs with nature, fostering a balance that ensures long-term ecological resilience.
The New Carbon Architecture: Building to Cool the Climate
Frank Lloyd Wright: Natural Design, Organic Architecture: Lessons for Building Green from an American Original
Advantages of Green Architecture
Environmental Benefits
Green architecture significantly reduces carbon emissions, energy consumption, and waste production. It promotes biodiversity and minimizes disruption to local ecosystems, contributing to the preservation of natural resources.
Economic Advantages
While initial costs may be higher, the long-term benefits of green architecture, including reduced energy bills and maintenance costs, can outweigh the upfront investment. Additionally, green buildings often have higher resale value.
Improved Quality of Life
Green architecture prioritizes indoor air quality, natural lighting, and thermal comfort. These factors enhance the well-being of occupants, fostering healthier and more productive living and working environments.
Key Features and Design Strategies
Energy Efficiency
Green buildings employ energy-efficient systems, such as solar panels, high-performance insulation, and LED lighting, to minimize energy consumption and reliance on fossil fuels.
Sustainable Materials
Materials with low environmental impact, such as recycled, reclaimed, or rapidly renewable materials, are used in green architecture to reduce the depletion of natural resources.
Passive Design Techniques
Passive design involves harnessing natural elements like sunlight, wind, and shading to regulate temperature and lighting, reducing the need for mechanical systems.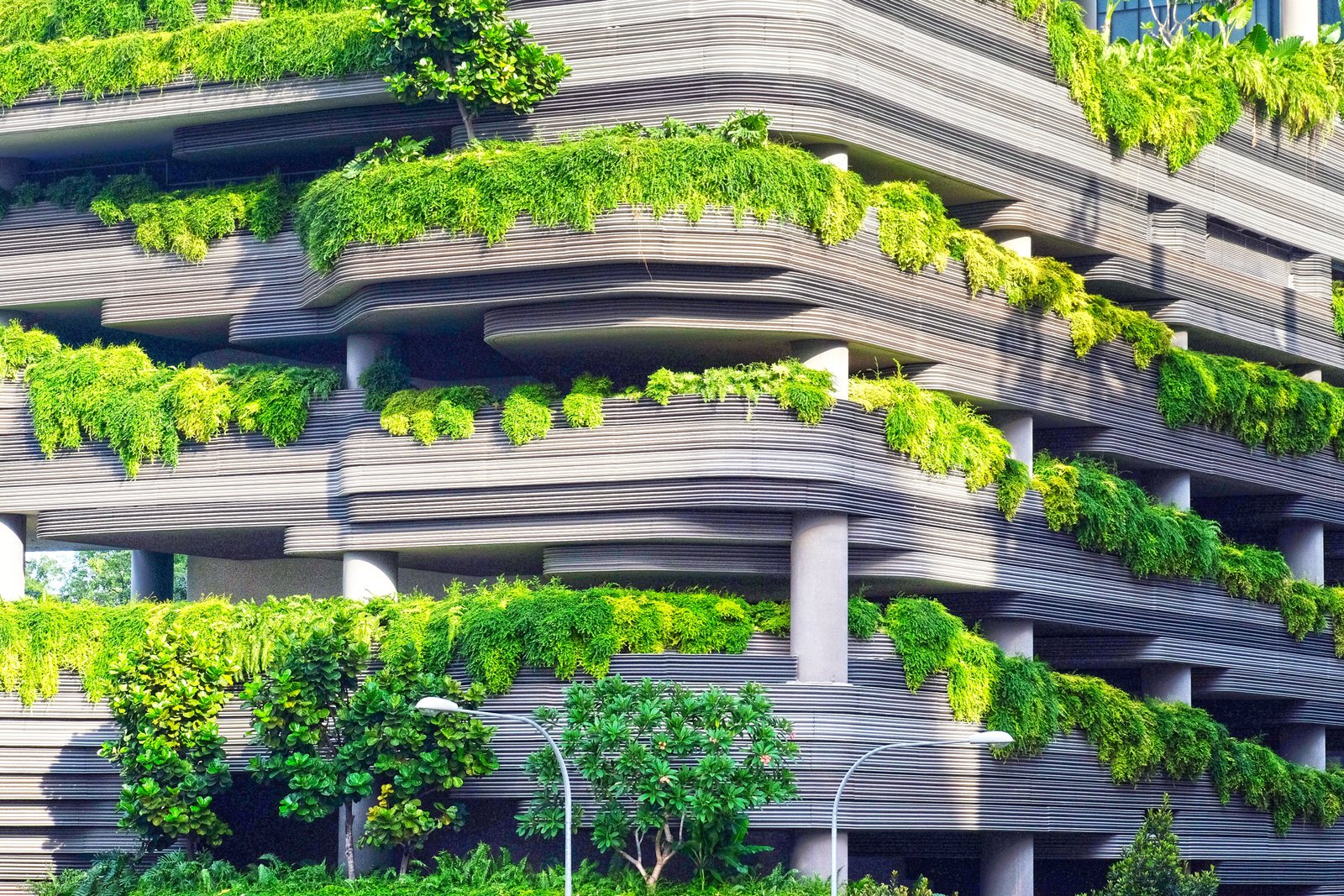 Challenges and Considerations
Initial Costs
One of the main challenges of green architecture is higher initial costs, which can deter some developers. However, these costs are often recouped through long-term savings on energy and maintenance.
Technological Integration
Implementing advanced green technologies requires architects and engineers to stay updated with rapidly evolving innovations, posing a challenge in terms of technological integration.
Public Awareness
Educating the public about the benefits of green architecture is crucial to fostering demand and acceptance. Raising awareness can dispel misconceptions and encourage the adoption of sustainable practices.
Successful Green Architecture Projects
The Edge, Amsterdam
Often hailed as the greenest building in the world, The Edge combines smart technology, solar panels, rainwater harvesting, and energy-efficient design to achieve exceptional sustainability.
One Angel Square, Manchester
This award-winning building utilizes natural ventilation, daylight harvesting, and a biodiverse green roof to reduce energy consumption and create a healthier indoor environment.
Urban Planning and Community Impact
Green Urban Spaces
Green architecture extends beyond individual buildings to encompass urban planning, emphasizing green spaces, pedestrian-friendly design, and efficient public transportation.
Social Cohesion and Well-being
Green architecture fosters community interaction and well-being by providing spaces for recreation, socialization, and connection to nature, enhancing overall quality of life.
Future Trends in Green Architecture
Net-Zero Buildings
Net-zero buildings generate as much energy as they consume, often through renewable sources, making them a cornerstone of the future of green architecture.
Biophilic Design
Biophilic design integrates natural elements into the built environment, promoting psychological and physiological well-being by connecting occupants with nature.
Global Adoption and Awareness
International Green Building Certifications
Certification systems like LEED and BREEAM set standards for green building practices, encouraging global adoption and providing a framework for sustainable construction.
Educating Architects and Engineers
Training and education play a pivotal role in preparing architects and engineers to incorporate green practices into their designs, ensuring a sustainable future.
Overcoming Resistance and Myths
Addressing Skepticism
Some skeptics view green architecture as expensive and impractical. Effective communication about the long-term benefits and cost savings can help overcome such resistance.
Dispelling Misconceptions
Debunking myths, such as the idea that green buildings lack aesthetics or comfort, requires showcasing successful green architecture projects that prioritize both function and design.
Conclusion
Green architecture stands at the forefront of sustainable design, ushering in a new era of environmentally conscious construction. By embracing innovative technologies, sustainable materials, and thoughtful design, architects and builders can shape a greener, healthier, and more harmonious world.
Frequently Asked Questions
Is green architecture only relevant for new buildings? Green architecture principles can be applied to both new construction and retrofitting existing structures to improve energy efficiency and sustainability.
Do green buildings have to compromise on aesthetics? No, green buildings can be aesthetically pleasing while incorporating sustainable design elements that enhance both form and function.
Are green buildings more expensive to construct? While initial costs may be higher, the long-term savings on energy and maintenance costs often outweigh the upfront investment.
How can individuals promote green architecture? Individuals can support green architecture by advocating for sustainable building practices, choosing eco-friendly materials, and participating in community initiatives.
Is green architecture a global trend? Yes, green architecture is gaining traction globally as environmental concerns grow and more governments, organizations, and individuals prioritize sustainability in construction.
Green Architecture News from Other Sources: